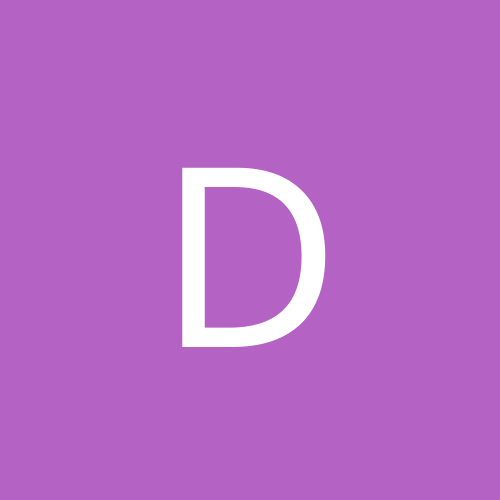 Defenseman13
Bronze Booster
Content count

261

Joined

Last visited
Defenseman13 replied to BlakChamber's topic in General

How about the Pens? Please, do tell. ah, someone beat me to it. Still classic.

Defenseman13 replied to Hank's topic in General

How come they just don't make the pucks smaller? Or only hire smaller goalies, like this guy? http://ca.youtube.com/watch?v=2ywv_JCyolU

Defenseman13 replied to jim3033's topic in General

I would say yes. I think they'll get to the finals, but more importantly they'll be playing teams in the Western conference that will fold (Dallas, Sharks or Ducks). MAYBE... maybe Calgary would be a threat, if only becasue they are so physical. Aside from Dallas, the WIngs are the only consistent team on that list. I think they'll get out of the West without injury, barring some freak accident. I think the Eastern team will be beat up, and there you go. Who knows though. The President's Trophy curse is a myth.... I think it will be a sweet run. Can't think about it yet though.... Wilson (the volleyball/Sharks coach) was showing some stats about teams that made trades at the deadline not being that successful generally, as opposed to trades happening in January, where teams have time to get used to the new guys and really utilize them.

Defenseman13 replied to miller76's topic in General

I'm sorry that some of you don't have the sense of humor (or class) to get this joke, but JR has the utmost respect for CHelios, and was in fact taking a dig at himself. I've had nothing but great hockey conversations on these boards, and I still think they're some of the classiest, well spoken boards around. Some of you should take more pride in that and grow up a little. As for the Sharks...yikes, we've really been stinking as of late... but seeing the passion, class and drive that ROenick gives, as well as seeing him score 500 ( I was there) is amazing. He adds so much to the Sharks it's unreal. Sadly nobody else seems to have that passion.

dude...just... no. Nothing with "DJ" in the title. I wanna Ride the Zamboni The Hockey Song Me Like Hockey (The Arrogant Worms) Runnin' Back To Saskatoon (Who Guess) Hockey - Jane Siberry Gordie And My Old Man - Grievous Angels The Ballad of Wendel Clark, Parts I and II - Rheostatics THOSE are some hockey songs. The Gary Glitter song is a great goal song though.

Defenseman13 replied to erok's topic in General

I get it now on Direct TV (in Southern Cali) and it is AWESOME. 24 hours of hockey, the top 10 plays all the time, and they constantly show classic games/series. Now with Center Ice, I really do get hockey all the time. NICE!

Defenseman13 replied to Skiing - Puck's topic in General

reminds me of the ECHL... that's why I don't play any more. A 30 year old has no business getting his arse kicked by 18 year old night after night. WHat's the deal with the screaming? Sounds like two 12 year old girls were screaming the whole time...hehe good stuff.

Defenseman13 replied to TRD604's topic in General

We did?! One would think that the way we've been playing he might trade someone. However, we have been playing better (translated: showing up), and after that last spanking by the Wings and the subsequent no-show in Colombus, the guys seem motivated. Devin Setoguchi is amazing, and the look on Cheechoo's face (seeing the new guy take his spot next to big Joe) was classic. Devin scored twice in his first game, but everyone had been watching him in Worchester. Tonight we're playing the Kings in SJ.... 12 straight games in the Pacific. Tomorrow we're in LA, I'll be at that game. Sharks might be waking up here! BTW congrats to the Wings for that Canadian sweep!

uh..... the countdown ran out, eh? As for the Garry Glitter song (RRP2) that's a different story. Gary Glitter was convicted of child molestation, and many arenas removed that song as their goal song. This happened to the Sharks, and they went through a voting process that eventually got Green Day's "Holiday" as our goal song. Ugh...just what I want to hear... manufactured pop-punk made for 1`2 year old girls at a hockey game. However.... this year they put the Glitter song back in after the fans comlained so much about it. No offense to those that use the internet, but using the chatroom and the website in SJ as a reflection of the crowd was a mistake, and apparently the minority. There were actually t-shirts made that said "HEY! We want our goal song back". If you used to hear this song at the Joe and don't anymore, this is most likely why. this is cut and pasted from a Sharks site: "The Hey Song" Rhythmically challenged fans will be pleased to learn that the old goal song – "Rock and Roll, Part 2," nicknamed "The Hey Song" – is back by popular demand. (Last season's song, "Holiday" by Green Day, has a good beat that you can really dance to, but it took all season for fans to figure out on which beat to pump their fists in the air to celebrate a goal. Some fans never quite caught on and simply stood there and clapped.) Major league and college sports teams dumped "The Hey Song" in 2006 when the man who first made it famous, Gary Glitter, was convicted of child molestation charges in Vietnam. It's worth noting that the version played at the Tank is an organ version of the song and not the original, and that Glitter receives no royalties when the song is played. So hey – your demands were heard and heeded.

holy crap that was an awesome pass

Drew Remenda and Randy Hahn... they are AMAZING announcers. THey are never homers and really tell it like it is. Drew does a half hour show called "Shark Byte" and used to be the Sharks asst. coach back in the day, they're both very knowledgeable. I'm getting the FSN Detroit feed through Center Ice.

yikes... watch the net! Cool, he's ok.

Anyone remember watching the last game? It was a freaking penalty fest. This game is MUCH better.

what a dumb penalty.... oh well, you can't say we're not trying....