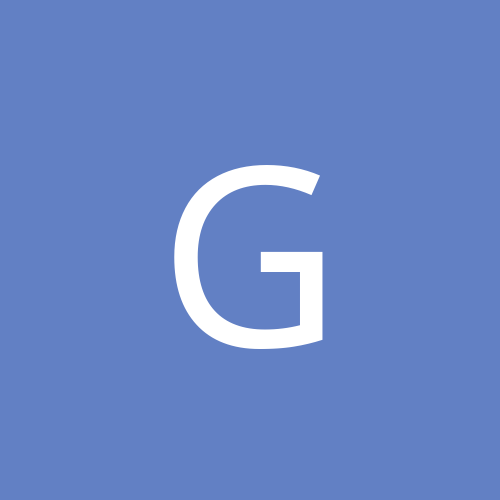 Content count

95

Joined

Last visited
grindlinelove replied to drfnr14's topic in General

Hello all. I have been a fairly frequent contrinutor to these threads this playoff season. However, I have never experienced this kind of game seven before with the Wings. I'm guardedly optimistic. This whole thing feels very, very awkward. It's uncomfortable. The clock just slows down and heckles you. Therefore, this will be my only post in this thread for this game. Our Wings must make a last stand for the fate of humanity. A lot is in the balance. God-speed to you men, as you begin this epic, righteous crusade to rid the hockey world of evil and tyranny. LET'S GO WIINNGGSS!!!

"Bettman sucks" is more appropriate. He really put himself in a prone position by sitting in the stands. Not that it would have been classy, but it would have spoken for a lot of people out there.

Heads up now for the "Lidstrom/Osgood/Hossa/Zetterburg/Datsyuk/etc. Sucks" chants Tuesday night.

Sounds like a personal problem.

It can vary year to year. This year seems to be going running on playoff game-days. Games 1 and 2 I did the run. Games three and four I couldn't run so I just got my workout through weights. Well, I decided it was time to run again yesterday and WOOO!!! I am worried however, of whether I'll have time to do it Tuesday. Drama. Grrrr....

grindlinelove replied to grindlinelove's topic in General

Well, in regards to the outdoor screen at Mellon, I do not belive they charge. I am not sure if the Pens organization sells refreshments or gear there, but if it's only street vendors and what not, then I can see how NBC might not have a beef with it, as opposed to JoeVision which charges (however very minimally) and all that jazz.

grindlinelove posted a topic in General

So, NBC has been a bunch of little nancy's and denied us a feed for JoeVision. But here's the big question, what can the NHL/NBC actually DO to the Red Wings organization if Illitch says "eff off" and throws it up on the screen and has a Joe Vision anyway??? Now, if they do it w/o permission and charge, big issues, I know this. BUT, say they dropped the $5 charge and didn't sell concessions? Then, there's no profiting. What I'm asking is, just how big of a fine/lawsuit would result? Stupid question, I know.

grindlinelove replied to wingfan13's topic in General

You hit the nail on the head. There just seems to be a lot of "exceptions" given around for the comish's BFF's team.

grindlinelove replied to grindlinelove's topic in General

grindlinelove posted a topic in General

Are you kidding me??? I watched Kunitz absolutely MUG Helm in front of the net like he wanted his wallet AND his Air Force Ones. Helm...keeps his composure. Yeah, he takes a few licks in a head-lock. But wait, look, his team now has a man-advantage for two minutes. OH MY GOSH THEY SCORE!!!! The Wings are ONE WIN away from another Cup. Whats the lesson? Whats my point? Helm played in Grand Rapids all year. He's considered a young rookie/black ace. The shocking part, he has more class, patience, and common sense than it seems the whole Pens team as his selfless, ego-less actions single-handedly brought the Wings THAT MUCH closer to back-to-back (12th!!!!) Cups! Yet, here's Cindy and Malkin acting like spoiled rich brats hacking and slashing. Helm's a beast who school's fools while keepin' it classy and winning Cups. Yeah he took a few munches, but if he gets a second ring Tuesday, SCOREBOARD. My point. The Wings learn class and composure from the very beginning, unlike other organizations. WE DO IT RIGHT THE WHOLE WAY THROUGH. If we get a lead Tuesday, let alone up by two, pay attention to Crosby and Co.'s composure. The Detroit Red Wings have more moral class than the rest of the NHL. Rack me, I'm OUT!

grindlinelove replied to pockets's topic in General

I think we're learning something about Malkin, Crosby and the rest of the Pens gang. They're bi-polar. No one likes losing, but you did NOT see ANY Wing doing ANYTHING like this during or after game 4. Maturity is a b**ch and if we win this series, this is going to be a big focus. Before this game, I verbally stated that I would LOVE to have Malkin on our squad, because he is sooo good. I hereby rescind that statement. If he really grows up into a better, more mentally sound player I may once again reverse my decision. However, until then, if you want to act like a spoiled brat, stay away from my PROFESSIONAL team of MEN.

grindlinelove replied to FunkedUp's topic in General

Your missing last years SCF game 5. Lost to Pitt in 3OT.

grindlinelove replied to Husker BigGuy's topic in General

Bottom line is this. If we're depending on ONE player for us to win, we're NOT GOING TO WIN IT! Hockey is the ultimate TEAM sport, and right now, we suck at playing as a cohesive unit.

grindlinelove replied to NEpats1028's topic in General

The bottom line is in both games 3 and 4, the boys had a 2-1 lead in second period. We had silenced the Pittsburgh crowd very effectively. This is where we normally take over a game and grind the other team into the ice. Last night we 4 minutes of PP time to do just that. We could have made it a 4-1 lead!! The bottom line is that this is not the same Red Wings team. We're back on our heals, and something is really, really wrong, whether it be exhaustion or mental, we don't look good.

grindlinelove replied to Hockeytown0001's topic in General

Also, I think you'll see Datsyuk in game 5.