DETROIT -- Detroit Red Wings general manager Ken Holland hopes to begin contract talks in earnest soon with coach Mike Babcock.

The sides have had preliminary discussions.

"Mike likes it here, I like him here, but we haven't had much of a chance to sit down,'' Holland said. "Over the course of the next couple of weeks we'll probably have an opportunity to sit down and talk more.''

Babcock is entering the final year of his contract, but there is no urgency to get a deal done. Babcock's last contract wasn't completed until after the 2007-08 season.

"We've talked, we haven't gotten anything done yet,'' Babcock said Tuesday. "I'm not real concerned. It's my understanding (Holland) wants me to be here and I want to be here.''

http://www.mlive.com...abcock_t_4.html


I think it's safe to say that we'll be seeing Babs around for quite some time. My guess is that he'll retire from professional coaching as a part of this organization.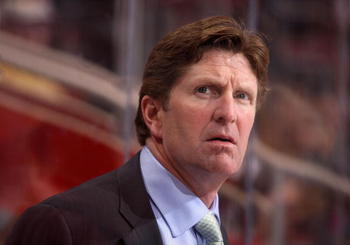 Edited by zombi, 14 September 2010 - 11:00 PM.