The Wings had their own 40 year drought(1955/56 to 1995-96) and while thankfully not something the Wings have had to deal with in a long time check out some of the current droughts suffered by fans elsewhere;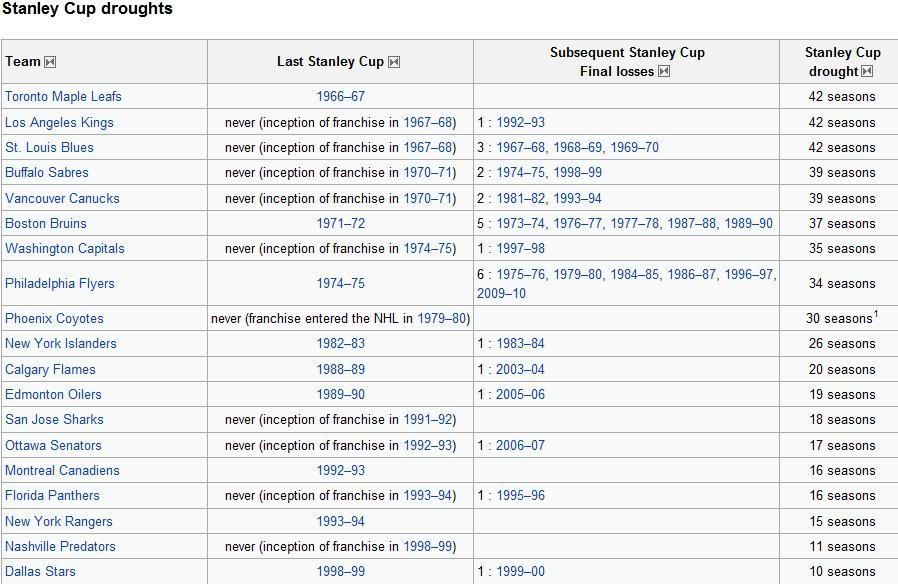 A couple of things I found noteworthy from this list
;
1) Kings & Blues fans have put up with too many years of futility.
2) I never realized that the Blues went to 3 straight Stanley Cup Finals.
3) Jets/Coyotes - 30 years of futility. (although Wpg did manage 3 Avco cups in the 70's).
4) Unlike some of the teams on this list with droughts over 15 years, neither the Jets/Coyotes (30 yrs) and Sharks (18 yrs) have ever made a Stanley Cup Finals.
5) Of the teams that have never made the Stanley Cup Finals, 5 were from the West and 1 was from the East.
Question
:
Which team on this list do you think is most likely to win the Stanley Cup first?
Guess
:
My thought, in no particular order is; Capitals, Canucks and maybe Bruins.