Official Game Day Thread
- - Tonight's Matchup - -


VS.



Start time: 8:00 EST


Scottrade Center - St. Louis, MO




Available On:




Tonight's Stream
http://www.letsgowings.com/forums/index.php/user/15741-drumnj/
(Directions in profile)





Official Game Preview:
Red Wings hit the road to challenge Blues
- - -
*Opposition GDT*
Forthcoming
- - -


News from around the NHL
Thomas clear Vezina choice
Finances don't concern Stan Bowman
McCabe a happy Ranger


Western Conference Standings



RED WINGS
68 GP, 40-20-8, 88 pts
Last Game: Defeated EDM 2-1 (OT)


BLUES
60 GP, 31-29-8, 71 pts
Last Game: Defeated MTL 4-1

Last DET-STL Meeting:
1/20, DET 4 at STL 3 (OT) Recap - LGW GDT

Highlights
http://www.youtube.com/watch?v=zcJwcLGOtp0



Goals
DET Johan Franzen: 27
STL David Backes: 24

Assists
DET Henrik Zetterberg: 51
STL Alexander Steen: 30

Plus/Minus
DET Brian Rafalski: +14
STL David Backes: +19
----
DET Mike Modano, Todd Bertuzzi: -4
STL B.J. Crombeen: -20

PIM
DET Jonathan Ericsson: 73
STL B.J. Crombeen: 114



Franzen-Datsyuk-Cleary
Filppula-Zetterberg-Bertuzzi
Abdelkader-Modano-Holmstrom
Hudler-Helm-Draper

Lidstrom-Stuart
Ericsson-Kronwall
Kindl-Salei



Projected STL Lines
McDonald-Backes-D'Agostini
Hensick-Berglund-Stewart
Porter-Oshie-Crombeen
Janssen-Cracknell-Reaves

Polak-Nikitin
Colaiocovo-Pietrangelo
Shattenkirk-Cole




Jimmy Howard


Record:
32-13-5, 2.76 GAA, .909 SV%, 2 SO

----
versus.
----


Jaroslav Halak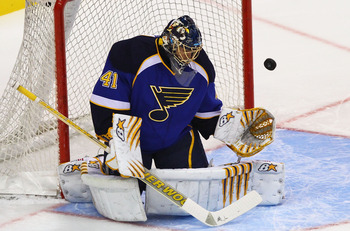 Record:
21-17-6, 2.60 GAA, .908V%, 4 SO



RED WINGS
Patrick Eaves (knee) out, Brian Rafalski (back spasms) doubtful,
Chris Osgood (groin) out,

----

BLUES
Vladimir Sobotka (ankle) out, Barrett Jackman (finger) out,
Alexander Steen (ankle) out, Phillip McRae (lower body) out,
David Perron (concussion) out



On Deck



3/16, Capitals at Red Wings ; 7:30 EST
Edited by Hockeytown0001, 05 August 2011 - 11:57 PM.