Official Game Day Thread
- - Tonights's Matchup - -


VS.



Start time: 7:00 EST

Joe Louis Arena - Detroit, MI




Available On:




Tonight's Stream
http://www.letsgowings.com/forums/index.php/user/15741-drumnj/
(Directions in profile)





Official Game Preview:
Original 6 rivals meet in Detroit

- -
*Opposition GDT*
From HF Boards
- -


News from around the NHL
Joe Sakic joins Avs front office
Bobrovsky looks to silence critics
Grabner: Calder winner?



Western Conference Standings


MAPLE LEAFS
75 GP, 34-31-10, 78 pts
Last Game: Defeated COL 4-3


RED WINGS
74 GP, 43-22-9, 95 pts
Last Game: Lost to VAN 2-1

Last DET-TOR Meeting:
11/7/10, DET 1 at TOR 5 Recap - LGW GDT

Highlights
http://www.youtube.com/watch?v=hFt-zXrwE_Y



Goals
TOR Phil Kessel: 29
DET Johan Franzen: 27

Assists
TOR Clarke MacArthur: 36
DET Henrik Zetterberg: 52

Plus/Minus
TOR Mikhail Grabovski: +14
DET Brian Rafalski, Pavel Datsyuk, Justin Abdelkader: +12
----
TOR Tyler Bozak: -27
DET Todd Bertuzzi: -7

PIM
TOR Colton Orr: 128
DET Jonathan Ericsson: 79



Hudler-Zetterberg-Cleary
Modano-Filppula-Holmstrom
Draper-Helm-Eaves
Miller-Abdelkader-Mursak

Lidstrom-Stuart
Kronwall-Rafalski
Kindl-Salei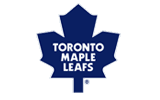 Projected TOR Lines
Kulemin-Grabovski-MacArthur
Lupul-Bozak-Kessel
Boyce-Kadri-Crabb
Sjostrom-Brent-Brown

Aulie-Phaneauf
Gunnarsson-Schenn
Komisarek-Lashoff



James Reimer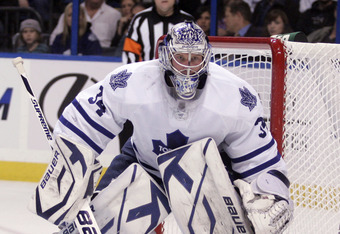 Record:
17-4-4, 2.51 GAA, .924 SV%, 3 SO

----
versus.
----


Jimmy Howard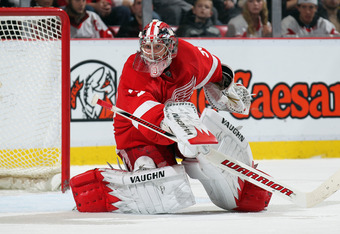 Record:
34-15-5, 2.77 GAA, .909 SV%, 2 SO



MAPLE LEAFS
Colby Armstrong (foot) out, Colton Orr (concussion) out,
Jonas Gustavsson (heart) out
----

RED WINGS
Todd Bertuzzi (back) probable, Pavel Datsyuk (lower body) will not play,
Johan Franzen (groin) will not play, Chris Osgood (groin) out



On Deck


3/28, Blackhawks at Red Wings ; 7:30 EST
Edited by Hockeytown0001, 06 August 2011 - 06:35 AM.