It comes down to coaching style. I feel like Blashill was kind of set toward utilizing the strengths of younger, offensive players at the beginning of the year, but as time went on got spooked and went the safe route. He seems committed to the latter now, which is unfortunate. Every situation is different, but he's going to have to let the kids play eventually, and not all of them are going to be the dependable, two-way skaters he's looking to create. 

I remember reading some quotes from Larionov awhile back (I think he was discussing Yakupov) about how coaching in today's NHL is sucking the creativity out of the game. Coaches are trying to mold every player into the same style of skater, which doesn't translate with the offensively-inclined guys, obviously. I think this is a good take on how Dave Hakstol approached Gostisbhere in Philly.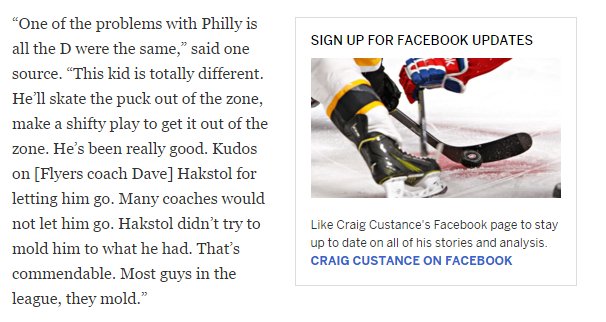 I'm not saying Blashill should let Smith, Mantha, Athanasiou, etc roam free, but I think he should be more receptive to it. You can have guys who take chances and compliment them with dependable partners/linemates. When you watch Gostisbehere, he's going to make mistakes, but he's also allowed to be a dynamic player. It's a double-edged sword.