i do enjoy his posts.

 

however, i think the 3rd goal is not really valid. sure a change happened, but the goal was because of the atrocious 1 on 3 defense the sens played. even with that slow change, they still had 3 back to cover helm, smith, and miller if they needed to. not to mention, it should have never even gotten that far.

 

i just think the change was a scapegoat in that sequence.
Agreed.  And he stops just short of saying as much.  It's probably that implicating the line change made three goals fit neatly under one topic. 
But on that third goal the line change would've been fine had they pressured Helm at all instead of giving him the redline and a crazy amount of room to work.  If Borowiecki steps up to doubleteam Helm with Neil, this goal never happens.   If Corvo wasn't hypnotized by the puck and actually looked for trailers, this goal probably never happens.
This is my favorite image from the breakdown.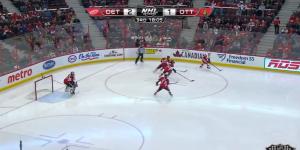 You'd think Helm was flying and pulled a crazy move to burn three guys in a row.  Then you watch the replay and realize how lazy that coverage was.  Helm wasn't even skating that hard.