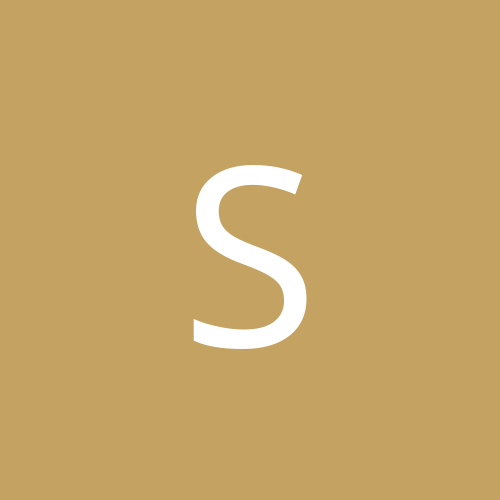 Content count

15

Joined

Last visited
About SFWarrior60
Rank

Goaltender


Birthday

10/10/1988
Oh really... Must just have been a rumor going around the locker room. As for the warrior jerseys I can't decide if I like the old desgin or the new design better (If infact all the teams switch to the RBK's). I think I am leaning towards the old ones, especially the darks!

In the newer rinks yes, but a lot of our games were at the oak park rink which is very old. Towards the end of the season it was so bad we couldn't even zam the ice between games because there was so much water. So depends on the rink, but even the newer rinks do get a little warmer. By Heavier I mean a thicker material. Weight wise I am not sure, never weighed them! I think a lot of the spead comes from the form fitting, makes it more aerodynamic.

SFWarrior60 replied to Matt's topic in General

I do not know anything about the color schemes, but material wise I have some information that might be accurate. This spring season my Jr. C team got jerseys from RBK to try them out and see what we thought. I do not know if these are the jerseys the NHL is going to use next year or not. However, if they are, the jerseys were made very similar to the new practice jerseys the NHL used this year. They are very heavy compared to current jerseys, and yes they are form fitted but they are not nearly as bad as it is made out to be. I had plenty of room to get my pads under it, and it was not skin tight. There were vents under the arms but skating in the spring/summer it is still very hot in them. Again I am not positive if these jerseys are what the NHL is going to use or not, but marterial wise if these are the new jerseys they are actually pretty nice. Troy

SFWarrior60 replied to vangvace's topic in General

I agree that the nets should not be changed at all. And the pad thing has been addressed again by the league. When purchasing my new glove I found out that leg pads, blockers and trappers have all been given new size specs for next year. Being a goalie I was kinda dissappointed that I was going to have to learn to play with new stuff, but my new smaller trapper actually made my glove hand more effective. Being a goalie, the only concern I have about smaller equipment is the protection on the fingers of the blocker hand. Already I take a lot of slapshots of my index finger of my blocker hand, if my blocker is shorter I can see this happening a lot more. Watch and I bet there will be a lot of broken fingers next year, otherwise I am all for smaller equipment, it just makes goalies faster!

SFWarrior60 replied to canadienhater's topic in General

I am mixed on the Vegas issue. As someone pointed out there are a lot of northern transplants in Vegas, my sister and her friends being some. Last spring I was out there, and I don't know if any of you know, but there is an ECHL team that skates out of the Orlean's. Now granted it was a playoff game, but they drew a decent sized crowd (by Michigan standards) for a Jr. A hockey game. Just some food for thought Troy

SFWarrior60 replied to skatergod247's topic in General

What do you mean that couldn't be further from the truth? I live in the Detroit area and there are easily 25 rinks or more with in 35 minutes of my house, expand that to 45 minutes and that number easily doubles. I have played travel hockey for 10 years and still haven't been to close to all the rinks in the area. Let us not forget all the jr, semi pro, pro and college teams in the region. (Whalers, Wolverines, Spartens, Wings, Spirit, Jets, Generals, Wyane State) I could go on for a long time listing teams that draw big crowds. Hockey definitly has a strong following in Michigan.

SFWarrior60 replied to SouthernWingsFan's topic in General

I have to agree with you man... I was there also, that was just amazing! It wasn't just that we won it in the last two minutes, it was the comeback that completed the night.

SFWarrior60 replied to shutTHEduckUP's topic in General

You actually have Ray Lane's autograph somewhere in your hockey card collection of eight binders.

SFWarrior60 replied to esteef's topic in General

Awesome site guys, thanks a ton! Without letsgowings.com I would have had to actually do work in my sixth hour engineering class my Senior Year.

SFWarrior60 replied to shutTHEduckUP's topic in General

Dig the same shirt out of the laundry three times in a week hoping it will help the wings win.

SFWarrior60 replied to Roberto Who?'s topic in General

I have mixed emotions on the refs. Some of the calls they have made have been absolutly horrible, however they have gone both ways. The call against Dats was rediculous, but the Wings should have been able to clear the puck and/or put one or two more in earlier in the game. As for J.S.'s pads. I have played goalie for a travel team for ten years so I have some knowledge on the issue. I will agree with the point that they look huge and may be somewhat oversized. But having oversized pads or not he still is an amazing goalie. He is always in perfect position, limits rebounds, and almost never scrambles. Having oversized pads makes all that extreamly difficult. I just experienced this first hand. I recently bought a new glove and was really worried about following the new size requirements, I thought that having the smaller glove would make it harder, however I am actually better with the smaller glove than the larger glove, its easier to move and control. Sorry if I rambled a bit but I guess my point is that oversized pads or not, Giggy is still an amazing goalie. GO WIngs! -Troy

No I havent used them yet, they are for todays game. I have heard all positive things about the site, and I hope they work. If they don't I would be rather dissapointed but what can you do. I will let you know after the game if they worked or not.

I bought tickets yesterday off a similar sight (motownsportstickets.com). The site works as a middle man between the seller and the buyer. I clicked on the 15 dollar shipping then in the special instructions I wrote please email to my address. With in 5 minutes I got a call from the seller, he emailed me the tickets in 15 minutes and took the 15 dollar fee off the price of the tickets. I was very impressed. The only thing to make sure of is that the tickets do say email delivery available. Oh yeah, make sure you have adobe acrobat reader also!

SFWarrior60 replied to ttbrunke's topic in General

Hey guys, long time lurker here. I live in Commerce, Mi, about 45 minutes from downtown Detroit for those of you who are not from Michigan. I currently play goalie for the Southfield Warriors Jr. C team and hopefully next year I will be able to skate at Grand Valley. Anyway, I say this discussion and decided I couldn't stay out of it any longer. In my opinion I feel most of the posts have a valid point: Ticket prices are way too high, the ecconomy in Michigan is horrible, people are leaving the state (some of them being hockey fans), and we have multiple potiential championship teams (Spartans Div. I and II hockey teams, Whalers, Tigers, Pistons). I don't think the problem is that people are not hockey fans anymore. Despite the local economy the Joe has been close to sold out every game, the Whalers are drawing decent crowds along with all the other jr teams in the area. One thing that I haven't seen mentioned on the boards is the fact that Michigan has the largest amature hockey league in the nation. We have more players than Minnesota or Massachuttes (both great hockey states!) Just my 2 cents. Thanks Guys!