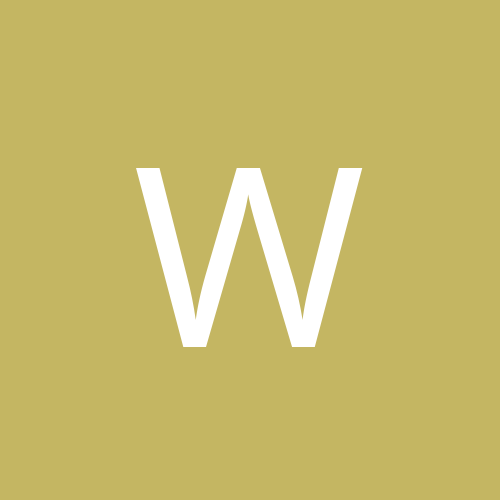 Content count

66

Joined

Last visited
Wingsfan31 replied to HockeyCrazy3033's topic in General

The show was "Arrested Development", IMO one of the greatest shows no one really watched. The actor's name in the video is Will Arnett, the guy you refer to in dodge ball I believe was Jason Bateman. One of the greatest lines ever came from the brother-in-law, Tobias, explaining that he had painted himself to be a stand-in for the "Blue Man Group", "Michael, you'll have to excuse me, I'm a little dizzy because I just blue myself". The look on Jason Bateman's face was priceless as he replied, "Yeah, you might want to consider rephrasing that in the future." What a classic show.

Wingsfan31 replied to Ashenden's topic in General

I don't know, there are a lot of burned bridges on both sides after he left. Would the Wings be willing to keep a guy like Emmerton from making his NHL debut for a 38-year old Sergei? Unlikely, IMO.

Wingsfan31 replied to arnoldbuck's topic in General

All the other Original Six teams are owned by people/companies that see the team as an investment or are seemingly indifferent about the team's success. Wurtz and Jacobs don't give a crap about the Hawks and Bruins and the Habs, Rangers are Leafs are owned by large corporations or, in the Leafs' case, a portion of the team is owned by a teacher's pension fund. Yeah, I'm sure they are real interested in taking risks with their investment to win a Cup.

I was simply making the comparison that initial impressions about a player's ability to perform in the playoffs aren't always right. Steve did always perform offensively, but many questioned his ability to lead a team in the playoffs. Yes, that's right, a guy considered one of the greatest leaders in his sport's history was once considered a crappy leader and was nearly traded for Alexi Yashin for it. So, in that aspect, I think it's early to call Pavel a playoff bust and I think it's a stupid reason to not re-sign him.

Pavel has also matured into a solid two-way player. Zetterberg and he are both very responsible in their own zones. To have two dynamic offensive talents that backcheck is rare, and I think that alone merits his return, regardless of what heppens in the post season. For those with short memories or who weren't around, there was a time when the prevailing thought was Steve Yzerman couldn't win in the playoffs, too.

Wingsfan31 replied to redwing711's topic in General

They say that imitation is the highest form of flattery, so we as Wings fans should be honored. Honestly, who cares? They are trying to start a tradition of their own and it will likely go the way of the "Rat Attack" in Florida. You have to remember though, in their short history, this is about as close to the playoffs as you can get without being in them. They are challenging for the President's Trophy, which may be no big deal to us but is to a franchise that is 10 years old. Also, they are fighting what they consider their hated rival for the #1 spot. So, I can understand them throwing them to "show us up", kind of like a little brother realizing he can slap box with his bigger brother and hold his own now.

Wingsfan31 replied to Sparty13's topic in General

The Preds are doing the same thing the Wings did in the lat 80's/early 90's. You build through the draft, trade assets you do not need for those you do and hope you strike the iron while it's hot. The Pred's biggest foe right, IMO, is the salary cap. The Wings had the luxury of paying their drafted players what was needed to keep them around. This kept the core together and allow the Wings, IMO, to win the '98 and '02 Cups. I give full marks to Poile, Trotz and the Nashville organization. They have followed the Tampa Bay model to perfection and are seeing the same results.

Wingsfan31 replied to Salviaman's topic in General

If you're down by two goals and plan on pulling your goaltender, what's the difference between two minutes to go and one minute? Actually, pulling him with two minutes to go makes more sense since if you score with the extra attacker, you might have some time to pull him again and try for the tie. If they fill the empty net with 1:30 left or :30 left in the game, either way it's over.

I've known Sean informally for a while - he used to host a sports talk show here in Toledo that we used to go to. He's told me he hates the Wings, he hates how the Wings fans think Detroit is the center of the hockey universe and how the organization feeds into it. So, in that aspect I'm not surprised he took the opportunity to take some shots at the Wings, which obviously he doesn't get a lot of chances to do if he wants to stay on the air. That Brady - Baligian drop is one of my all-time favorites. I think Shep picks fights with Brady because Jamie is so laid back. Although, if you start dissing Jordan, you can get Jamie's hackles up. I remember how Henson used to just pick at him about that, just to watch him get fired up. Now THERE was a jackass. Hell, I remember when 3G and JB used to be on "The Afternoon Sports Page" waaaaayyy back in the day. Enjoy the game tonight between "Detroit" and "Nashville" on "Teeee-Veeee". "Should be a good one." I agree, the Wings have little to play for right now and have an injury-decimated team to boot. I don't think the Wings really care where they finish either, especially since the team that finishes first may have to play Calgary in the first round. The other game the Wings lost in regulation recently? The Sunday prior to the Bruins game when they played an uninspired game against the Avs. Obviously, the team doesn't like the noon starts. If they lay a total egg tonight, I'll be slightly more dismayed, but only slightly.

Considering Baligian is a Habs fan and Brady is Mr. Negativity about everything (he and Shep have had some historic shouting matches on the morning show), I'm not surprised. To a degree, they are right. The Ducks, Flames and Oilers all beat the Wings by playing an up-tempo, physical style that took the Wings' ice away. Take away a puck-possession team's ability to move the puck and you've stifled them. The addition of Calder and Bert is not going to change the fact the Wings don't play ugly hockey very well. Since most teams with size employ this system well against the Wings, its plausible that the Sharks would be a tough team for the Wings to handle. Personally, I'm voting for the Canucks or Stars in the first round. The Canucks don't play a slow-it-down style and I think the Wings can solve Luongo, especially with a healthy line up including Bert and Hasek. The Stars are a solid team but I'm not convinced Turco can win in the post season and I don't think they'd out-hit the Wings either. It's not like Lindros is going to be throwing his body around.

Try tucking your chin into your chest when facing high shots. You can still keep an eye on the puck, especially at your feet, and it will help deflect pucks away from your throat.

I played goal for 20 years and now I coach. If you have any questions, I am here as well.

Wingsfan31 replied to My GF Wishes I Was Hank's topic in General

I think you could argee Dats just got fitted for the saddle once Z went down. 11 points in his past six games, including a goal and an assist tonight; looks to me like they are still a one man show for the time being. Not that it's all that surprising considering the injuries this team has had to deal with. I think they will be quite a deep team when everyone is healthy, but one has to worry Dats is going to end up in the same position as last year's post season -- nagging injuries from being all things to all people for the WIngs right now.

Wingsfan31 replied to wingschamps's topic in General

No, 10 minute misconducts do not result in a short-handed situation. The player is merely in the box for 10 minutes. This is kind of a fundamental rule of hockey. Usually they are assessed in conjunction with 2 for unsportsmanlike or with a game misconduct. Unlike most penalties, goaltenders DO have to serve their own 10-minute misconducts.

Wingsfan31 replied to Komets's topic in General

The Shillelagh's bus drivers are off-duty cops, which is why they drive like maniacs. You can park in the lot a block north from Fishbone's for $6, take the shuttle to the Joe and back at the Shillelagh and be on the road before most people have moved 20 feet in the parking garage.